Gas Station Management System

Contact Us

Address:
No.4 Xuesong Rd, Hi-New Technology Industry Development Zone, Zhengzhou City, Henan Province, P. R. China,450001
Tel:
86-371-67989006
Fax:
86-371-67983787
E-mail:
[email protected]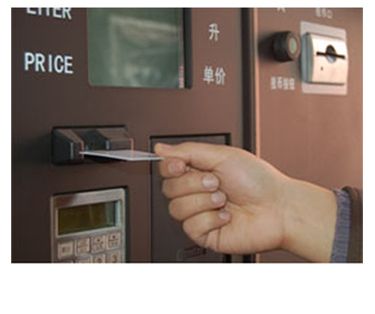 IC Card Management System
fuel card systems
Products Configuration
Technical Parameters
Advantages
Options
Comments
1. IC card and fuel dispenser working together
Fuel card management is to have card payment fueling mode, every transaction is carried out via one IC card from customer or station operator.
*Settlement is carried out on fuel dispenser, no staff for settlement in door any more.
* Easy payment and less cash and change
* Avoid flee away
2. Station network operation management
Chain of station spread far and wide, Network-mode central IT management get to be a must for efficient business.
* Fuel card systems with petroleum IC card, customer can refuel at all chain stations of one oil company, this change scattered customer to loyal customer
*.Fuel card management system automatically collect and calculate sales and inventory data from all fuelling sites.
3.information data safety
*double hard disk to prevent data losing
*System with multi-grade authorization management
*Safe data communicating tech applied on network
*system support lost card claim and recovery to protect customer
4. Tankguage management
*fuel card systems can be connect to many brands ATGs: Veed-root,Censtar,Accu,etc.
* Unloading and alarm record, alarm set, inventory, water volume, temperature, leakage check,etc.
Product configuration

Fuel card management system structure tree and configuration
9X00(EN)fuel card management consists of fueling station management system 9500K(EN), IC card central accounting system 9900W(EN), card issuing and charging system 9901W(EN) and WEB customer inquiring system(EN). Following is system structure tree.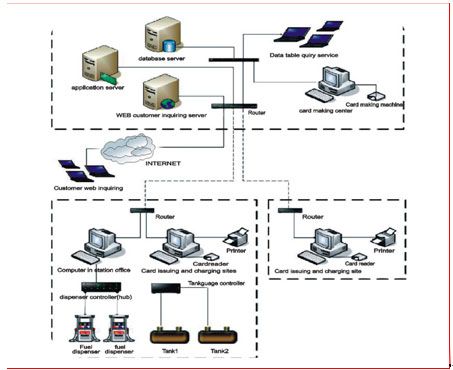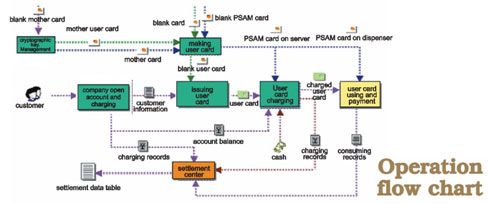 Software function chart

Censtar 9X00 (EN) IC Card Management System

Software function
Software name
CS9900W
CS9901W
IC card cryptographic key. management

√



IC card making and Issuing management

√



Oil product price management

√



Black name list management

√



Gas station settlement
Gas station settlement statement

√



Card issuing sites settlement statement

√



Card holder enterprise account management
Open account



√

Cancel account



√

Enterprise account deposit



√

Account Transfer



√

Modify account Information and password



√

Query of enterprise account information



√

Daily business
Enterprise account card/ Consumer card issuing



√

Consumer Card Deposit



√

Enterprise card account transfer



√

Check management

√



In and out of card bank management

√



Card charging password management

√



Consumer card management
Lost Card claim



√

disclaim to claimed lost card



√

Reissuing card



√

Return card



√

Modify card information and password



√

Modify valid period of card



√

Query card information

√

√

Statement of account
Statement of consumer account

√

√

Statetment of enterprise account

√

√

Query statistics
Query card holder information

√

√

Query of card consumption

√

√



Card sales record

√

√



Reissue and returned card

√

√

Operation strategy
Price system

√



Privilege policy

√



Bonus point Exchange



√

Send user statement by e-mail

√



Gas station monitoring tank data

√



Center monitoring
IC card charging Monitoring

√



System maintenance





√
IC card petrol station management system CS9500K (EN)
System function
CS9500K
System function
9500K
Business
management
Fuel dispenser status monitoring window
√
Internal-card management
Issuing of the internal-card
√
Oil tank status display window
√
Charge internal-card
√
Send oil price to dispenser
√
Modify internal-card password
√
Send white name list
√
White name list maintenance
√
Send gas station general information,
√
Staff password resetting
√
quiry accumulative total on dispenser
√
Modify internal-card information
√
Inquiry dispenser information
√
Staff password resetting
√
Cash settlement
√
customer management
Consumer card charging
√
coupon settlement
√
Privilege return
√
Refueling confirmation paper settlement
√
Network management
Product and price downloading
√
Bank card settlement
√
Price accepting and update
√
Other settlement
√
fueling transactions uploaded
√
Shift report
√
Black name list downloading
√
Daily report
√
general information downloading
√
Monthly report
√
Web inquiry function
Quarterly report
√
Finance management
Query of account
√
Annual report
√
Query of consuming record
√
Combination inquiry
√
IC card statement
√
Output data
√
account statement
√
Management
model
Indoor operator cashier model
√
Bonus point privilege management
Bonus point statement


Oil supplier cashier model
√
Query of privilege record
√
Staff
management


√
System management
Modify login password
√
Tank-guage management


√
Register information
√
Tank
management


√
User comment
√






To see use's comment
√






IC card loss claim
√